INTRODUCTION
Since 1993, the Research & Development Cell of the College has been conducting a number of social work research studies. The Research & Development Cell conducts independent research as well as commissioned research studies for Local, State and National Government and National-International Agencies. The Research & Development Cell focuses on systematic, fact-based and action-oriented research that creates user-friendly social work related knowledge for social work education and practice, social policy and advocacy. It aims to find effective field practice methodologies and person centered interventions to better the quality of life of the people.
OBJECTIVES OF THE RESEARCH & DEVELOPMENT CELL
To conduct research studies and programme evaluation for voluntary and governmental organizations concerned or working on social development and related issues, such as primary education, health, income generation, poverty alleviation, mother and child care, health, environmental concerns and so on.
To disseminate the significant findings of the research studies through reports, seminars and workshops and influence the policy decisions of government and non-governmental agencies.
To develop a strong research base to build indigenous theories of social work.
To produce quality research related to actual practice in order to move the social work field toward developing practice guidelines based on evidence.
To stimulate practitioners and students to access research and to be educated consumers of scientific literature.
To organize and conduct research methodology course for social work educators and practitioners with a knowledge base in research content and methodology
To establish research infrastructure for students and provide mentoring opportunities for their research studies and projects
To assist faculty in conducting research and develop their competencies in research methodologies.
THE RESEARCH & DEVELOPMENT CELL TEAM
The Research & Development Cell is intended to reflect a focus of expertise and necessarily, though not only, has research as its main focus. It consists of academic and research staff drawn from one or more disciplines. The Research & Development Cell has a nominated Director a Senior Faculty member, with a PH.D. In addition to the Director, the core team of the Research & Development Cell comprises of the three permanent non teaching staff - a Research Coordinator, a Senior Research Assistant and an Accountant. Qualified and experience personnel preferably with a Master's degree in social work or social sciences and research training are employed as Research Assistants on a project basis as and when required. The Research & Development Cell also hires external research staff as resource personnel/ consultants with expertise on specific issues for a defined task depending on the requirements of the study. Although, the Research & Development Cell has a clearly defined structure, the hierarchy is not rigid and team work is emphasised. All staff members (those belonging core team as well as those appointed on a project basis) work together as a cohesive and seamless team.
The Research & Development Cell has provided staff members with the means of achieving visibility and raising the profile of their work. With the experienced acquired in the research unit, some of the former staff of the unit are continuing with their doctoral programme in the UK and US, others are engaged in research and documentation in organisations in India and abroad while still others have moved into profession of music, journalism, law and joined faculty position. The Research & Development Cell has created a cadre of young social workers committed to pursuing quality research and indigenous documentation.
STRUCTURE OF THE RESEARCH & DEVELOPMENT CELL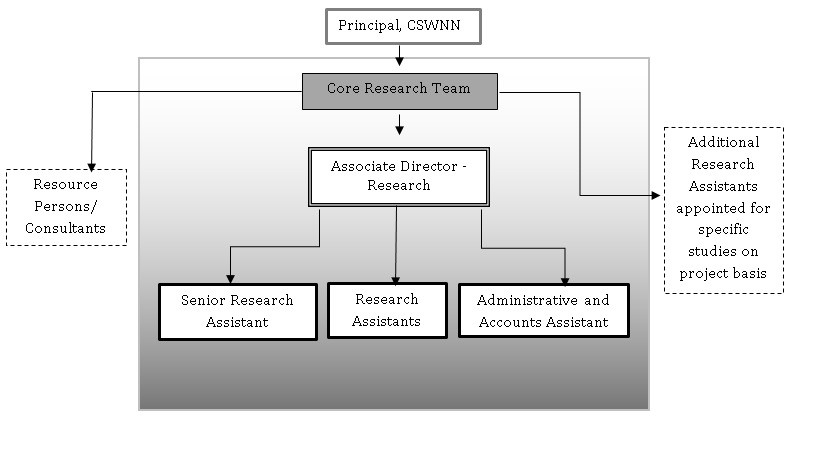 ROLE OF THE RESEARCH & DEVELOPMENT CELL
The Research & Development Cell has particularly facilitated and promoted interdisciplinary and multi-disciplinary activity through its various activities. Over the years, the Research & Development Cell has gained visibility to the public recognition as a node of excellence and provided groups and external users with a common and easily identifiable face. Public recognition as a node of excellence also assisted interactions and collaborations with external organizations, research institutions and government, as well as help to attract excellent staff and students. Since its inception the Research & Development Cell has evolved and created a process of the current research environment and changes signaled by recent government and NGO requests for research and training.
 ACTIVITIES
Independent Research Projects and Evaluations:

 The Research & Development Cell takes up independent research studies, based on the needs of the people. In order to develop effective intervention strategies as well as for social policy and advocacy. The cell has in the past conducted action as well as academic research independently.

Commissioned studies of NGOs and Corporates:

 A number of NGOs and Corporates across the country, from time to time approach the cell to conduct research studies for their programmes and activities. These studies include needs assessments, evaluation, surveys and social assessments. A number of National-International NGOs such as Aga Khan Foundation, Population Services International (PSI) and PLAN-International have assigned their research work to the Unit.

Research Projects for National-International Agencies:

 The Research & Development Cell has, since inception, been closely working with a number of National-International agencies such as UNFPA, UNESCAP, and UNICEF, to name a few.

Research Projects for Governmental Agencies:

 A number of research studies for the Sate as well as National government, for the Ministry of Human Resource Development, Department of Women and Child Development – Government of India (HRD-DWCD), Ministry of Social Justice and Empowerment-Government of India, Municipal Corporation of Mumbai as well as State Government of Maharashtra have been taken up by the Research & Development Cell successfully.

Training and Capacity Building Programmes:

 The Research & Development Cell also organizes a number of training programmes on a regular basis for students, faculty and other professionals through seminars, workshop, Faculty Development Programme and Professional Development Programme. The training component is interwoven in the work of the Unit in the form of the Advance Research.
Impact Assessment and Evaluation.

Action Research.

Consultation in planning and execution of research.

PG Diploma course in Research Methodology.

PhD program.

Minor and Major research studies.

Students Research guidance.

Research Journal on Perspectives in Social Work recognized under UGC Care list.

Documentation in the form of reports, articles, and books.
AREAS OF EXPERTISE
Over the years, the Research & Development Cell has carved out for itself a niche in a number of specialised research areas, such as Child Protection, Women, Needs Assessments, and Evaluations. Research Projects undertaken by the Research Unit.
Qualitative Research: The Research & Development Cell has, over the years, developed an expertise in Qualitative Research, and knowing the significance of this methodology for social work research, practice as well as education, the Research & Development Cell has conducted many research studies using Qualitative methodology.
Quantitative Research: Quantitative methods are very important and significant in terms of assessment, evaluation and so on. The Research & Development Cell also has an expertise in Quantitative methods and conducts many quantitative researches regularly.
Action Research: What works, what doesn't and how the field experiences can enrich and enhance research as well as practice, based on the interventions and experimentations, takes us to an altogether different kind of research method – Action Research. Action Research has tremendous scope and significance in social work research, and hence the Research Unit also involves itself in a number of action researches, in order to bring theory closer to field, and vice versa.
Participatory Research: The Research & Development Cell has in the past also conducted research projects using the participatory method such as PLA methods.